1. Protect your hair:
This is a time when the weather is extremely dry and somehow hot. This means we lose a lot of moisture from our hair and skin. It is extremely important to retain as much moisture in our hair as much as possible. Ditch the harsh shampoos and conditioners!! Use a moisturising or an extra moisturising shampoo and conditioner by all means. Do not use clarifying shampoos at this time as it will strip the hair too much of its essential oils. There is so much our hair can take!!
Protect your hair from dust as much as possible.
Avoid cotton fabric on your hair at this time as cotton strips the hair of moisture too and can cause breakage. Silk or satin scarves are best; and silk or satin pillowcases if your scarves come off often at night!!
2. Protective Styling: This is also a great way to protect our hair from the elements. You can use braids, cornrows, weaves or buns. If you want none of these options, just make sure to tuck your hair away as much as possible. This is a no show-off season. Just hide your hair....lol!! But remember to care for your hair as you would ordinarily. Wash, condition, deep condition, moisturise and seal always!!
3. Moisture, moisture, moisturise!!

The Harmattan season is often very dry, dusty and hot during the day. This definitely strips the hair of moisture. Our hair is very fragile and when dry, it is prone to breakage. Don't lose your hair to this season. Incorporate a lot of moisture into your regimen. Wash as often as you can, and by all means air dry. This is the perfect time to get a spray bottle at home and make a moisturising hair spritz using water and one or more oils. There are a lot of recipes available online that include adding a moisturiser, aloe vera juice, etc. Check some of these out and use what works for your hair. My bottle contains a mix of water, moisturiser, castor oil, coconut oil and olive oil. I usually add homemade aloe vera juice from the fruit I pick from my aunt's garden but I recently planted some myself and seriously growing it out. Don't want to get lazy with watering it so I decided not to pick some from elsewhere but to groom mine..lol!! Aloe Vera Juice has a lot of benefits for hair care and growth. Try it out! I spritz my hair every morning.....every single morning because my hair loves it at 6:45am (yes, in have a reminder on my phone )........It is one thing I make sure I do no matter what!! You don't have to spritz every morning. Experiment and find out what your hair likes. You don't want to have a moisture overload!!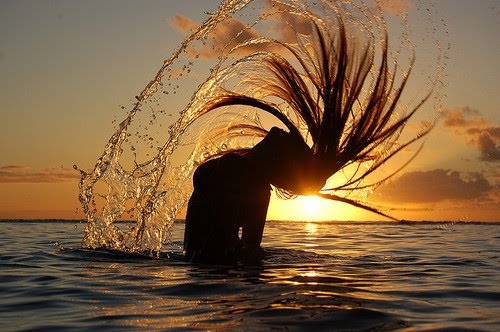 3. Deep Condition: This is one of the best times to take your deep conditioning treatments to the max. Your hair needs it! Use heat if you can as the heat opens up the hair cuticle allowing the hair to benefit extremely from the treatment.
4. Hot Oil Treatment: Hot oil treatments help to increase shine and reduce frizz as they help to retain and lock moisture in the hair. You can make your own treatment with one or more oils. Just heat up the oil a little and apply to the entire hair. Cover with a shower cap and sit under a dryer for some minutes, rinse with a gentle shampoo, condition and air dry.